"Starting with food."
Small Support Activities – Building Bridges of Exchange
Ukraine Relief Activities
In Japan, many displaced people from Ukraine have already entered the country.
We began life in a land with a completely different culture and language.
And then, seeing the ravages of war that never end.
Some people are beginning to think about living in this country for the long term going forward.

JA Fuji Izu-Mishima Kannami District Headquarters
Relying on relatives from Ukraine, which is under military invasion by Russia
Support for families evacuated to Mishima City.
To help people lead affluent lives in cooperation with the government and local businesses
We will provide comprehensive support initiatives.
"Health and Food Support."
We welcome the Ukrainian people and
It is a form of acceptance and a desire to
Through agriculture, the evacuees in Mishima City will be able to enjoy the benefits of agriculture.
We're here to help you in any way we can in terms of health and food support.
Hakone Nishi-Foothill Mishima vegetables are provided free of charge.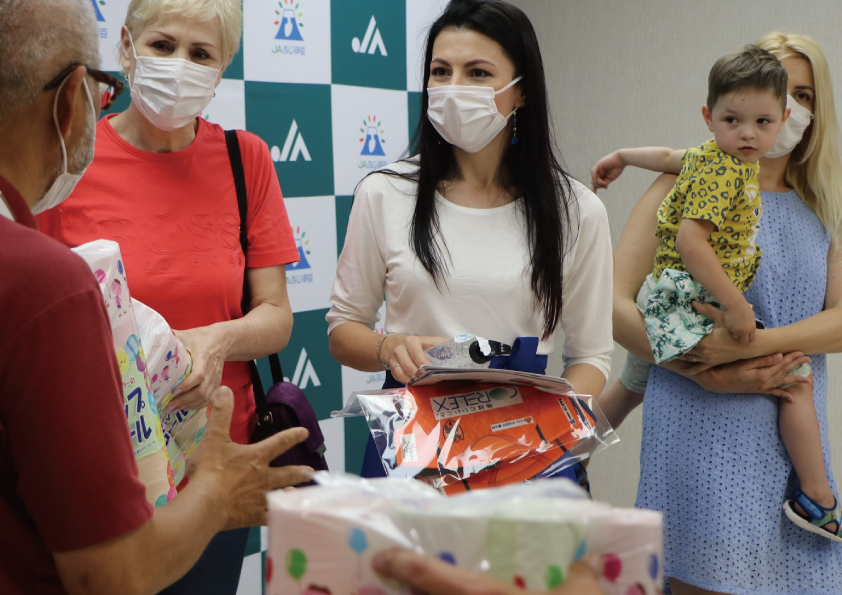 *Vegetable presentation ceremony for the evacuated Hara Ganna family
Kazuaki Fujinuma, Executive Director of JA
In the spirit of mutual support by JA, we will do our utmost to support the Hara family so that they can live in peace.
Hara.
I thank you from the bottom of my heart. I am very happy to feel the warmth of the Japanese people during this difficult time. After the war is over, I would like to make efforts so that Ukraine can support Japan.
We will continue to provide free vegetables and rice every month, and
Through local food culture
We will help you experience Japanese culture.
Those who were evacuated fled the ravages of war and
We have just finally started our life in Mishima.
To ensure that you can spend your time in Mishima with peace of mind
Our activities have also triggered support activities for the local people.
From that small beginning to international exchange
to gradually switch its role.
We will make every effort.